Why are Net Sarees Perfect for Parties ?
Posted by AKASH KUMAR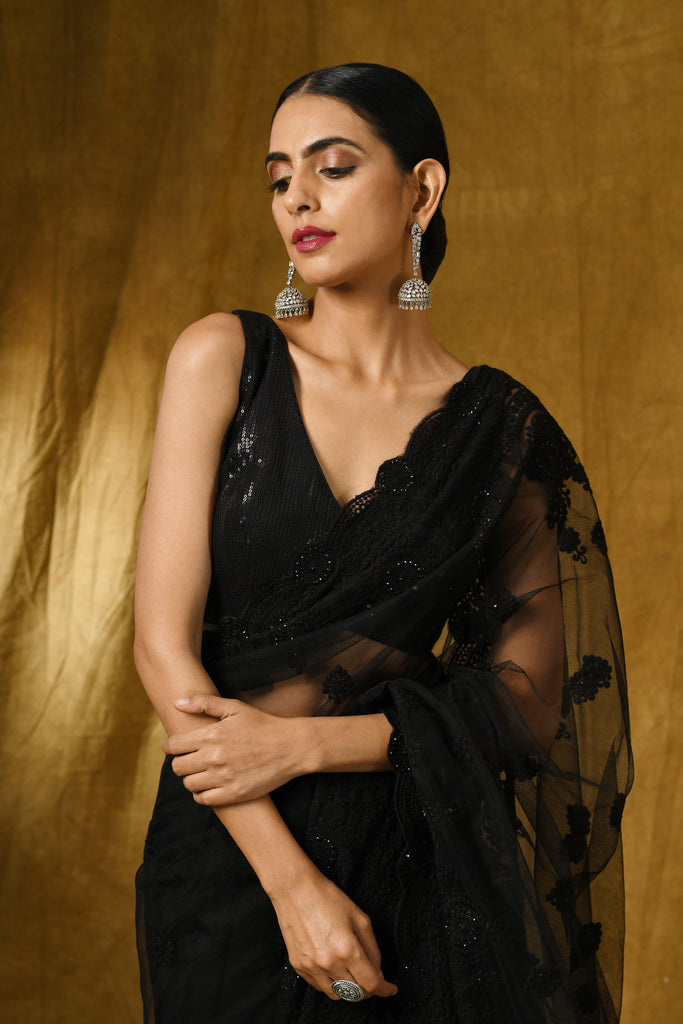 Sarees have been popular outfits for weddings, festivals & even parties. While traditional sarees mostly feature in weddings & festivals, it is the chiffon, satin & the netted sarees that you'll get to see when you attend parties or high-profile events.
Just picture yourself attending a party wearing a gorgeous netted saree with exquisite embellishments. Heads turning, Noises fading as people take a moment to gaze at you. Sounds magical right? Well, Netted Sarees tend to have that mesmerizing effect at parties. So, are Net Sarees the Perfect Party Wear Sarees? Read on to find out!
Why are Net Sarees Perfect for Parties?
Here are a few reasons why you should opt for a Netted Saree while going to parties:
Beautiful Drape – The netted flimsy fabric of net sarees mesmerizingly drapes around your body to accentuate your features. You couldn't have asked for a better saree when you see yourself wearing a net saree in the mirror.
A myriad of Colors – If you are thinking that net sarees are only available in standard colors i.e., black & white then wait till you see the spell-binding Maroon, Red & Grey Net Sarees. Choose a color that you like & drape it to turn up the heat at parties!
Perfect for Various Accessories – Accessorizing your net saree is very easy when compared to other types of sarees. This is because you can go for dazzling jewellery, clutches &stilettos to enhance your Net Saree look.
An Ideal Choice for Various Occasions – The patch-works, sequins & alluring embroideries of the net sarees make sure that you stand out from the rest of the crowd at parties, festivals & other social events.
Big Fat Weddings? You might've seen people flaunting netted sarees with glitzy accessories in lavish weddings. So, if you are planning to attend a larger-than-life wedding then Netted saree is the perfect choice for you!
Tips to Wear Netted Party Wear Sarees
Never Pleat Net Sarees for Parties
This tip is basically a no-brainer because nobody pleats a Net Saree. Why?
It ruins the entire look of your saree!
You might've seen Bollywood celebrities flaunting net sarees in red carpets & other high-profile events. They make sure to leave the pallu flowing instead of pleating it up. Doing this lets you show off the pallu work of your saree at parties & other social events. However, since you need to keep some minimum pleats, ensure that you pin those neatly to avoid any slip offs during walking.
Wisely Choose Your Petticoat for a Great Net Saree Look
Go for shimmer petticoats made of satin or other shiny fabrics as they can considerably enhance your net saree look. Avoid cotton petticoats as they can bring down the style quotient of your gorgeous net saree.
Pro-Tip: Instead of going for regular wide petticoats, opt for Fishtail cut or straight cut petticoats.
Tie Your Party Wear Saree around the Waist
As you already know that net sarees feature a transparent fabric. Therefore, you don't have to reveal too much. Instead, you can strike the right balance between glamour & elegance by tying your saree near the waist. This lets you flaunt your curves while enjoying a great time at the party.
Who doesn't love to put on makeup? However, Netted Sarees are themselves some of the most stylish outfits that you can wear. So, let the Netted Saree showcase your style while keeping the makeup to a minimum. You'll love all the adoration when people start complimenting you for your netted saree at the party.
Get Your Blouse Stitched Perfectly
While the netted saree is a perfect choice for parties, you need to make sure that the blouse that you are pairing up with the saree also needs to get stitched perfectly. A perfect fit blouse can easily complement your net saree look!
These are some of the reasons why Net Sarees are the perfect choice for Parties. Want to get some dazzling Netted Party Wear Sarees? Why not check out Swtantra? Swtantra boasts of an exciting collection of Net, Satin, Chiffon, Ombre & Linen Sarees that make you look like a Diva in Parties. Get your perfect party wear saree from Swtantra today!
Collection 2019
Sale 70% Off
Third slide