Saree Care: Instructions to Maintain your Organza Sarees
Posted by HENNA MALHOTRA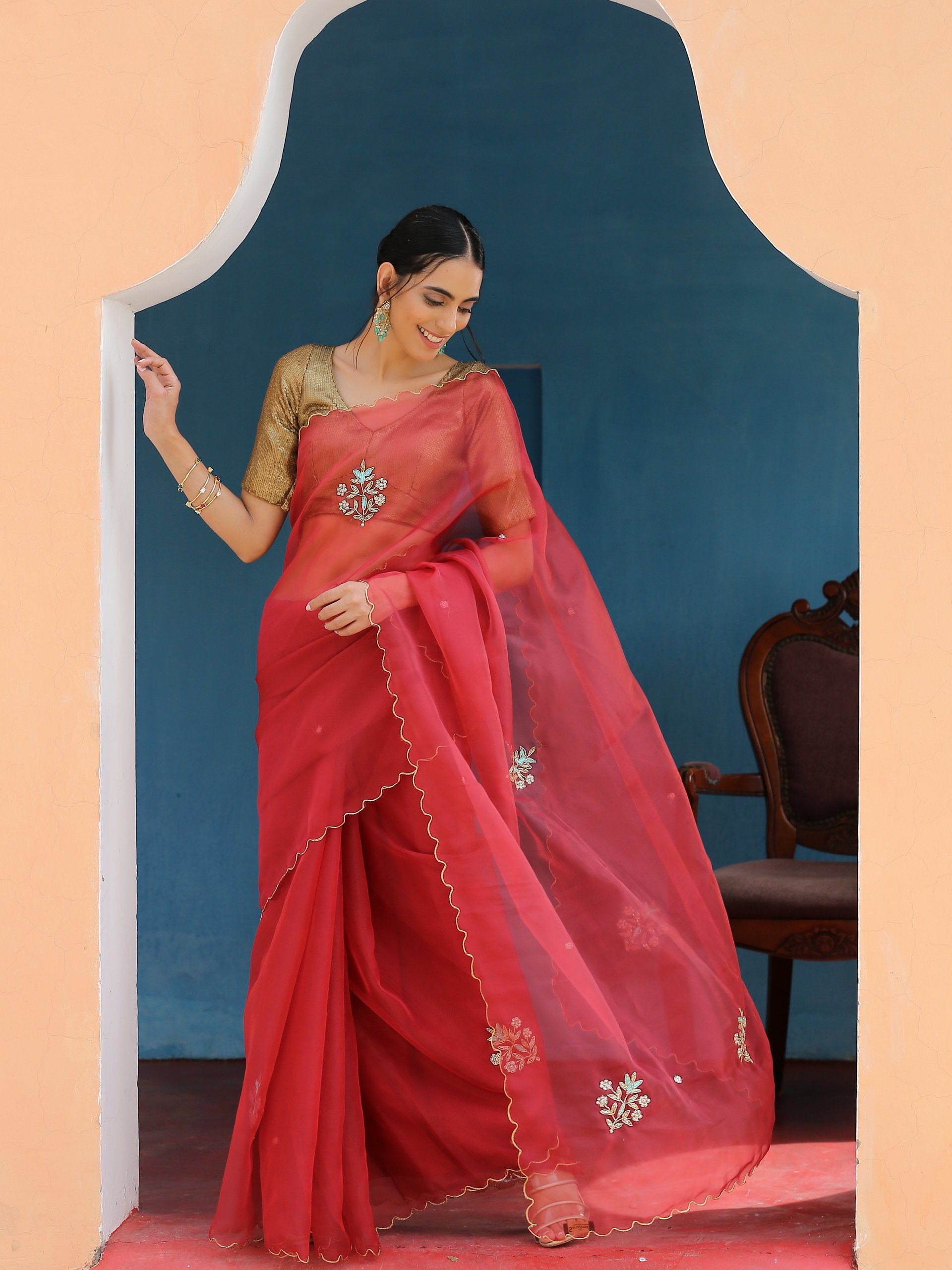 Organza is an alluring sheer fabric that is primarily made from silk. With time innovative Organza materials woven from synthetic fabrics like Rayon, Polyester, and Nylon came into the limelight. 
Organza has become a cult favorite over recent times for bridal gowns, dresses, lehengas and sarees. Organza sarees are delicately lightweight as compared to other common saree fabrics. So, you need to take special care of these sarees after you wear them to parties, festivals or special occasions. Read on to find out how!
1. How to Wash Organza Sarees

Always start by water testing a small portion of your precious organza saree for water reaction. If the fabric undergoes any stretching, shrinking, tightening, or wrinkling - then Dry clean your organza saree or follow the Wash/Care instructions given by the saree manufacturer.
If your Organza saree stays normal even after the "water test" then you can hand wash it. 
- Start by adding 1-2 spoons of mild detergent to a bucket of cold water.
- Gently soak the entire saree in the water for up to 30 minutes.
- After that rinse the garment with running cold water until all the soap is removed.
2. How to Dry Organza Sarees?
Never wring your precious Organza saree. Instead, place the saree on a flat surface, put a towel on it and press it to drain excess water.
Never hang your favorite organza saree in direct sunlight. Instead, use a shaded area to dry your saree.
Always place the saree to dry on a flat surface. Since the Organza Saree fabric is delicate, hanging it will result in permanent creases. 


3. How to Store Organza Sarees?
After drying, wrap your Organza saree in a soft muslin cloth. Store the saree in a cool, dry place away from direct sunlight. Additionally, refold your Organza sarees from time to time to avoid permanent creases & ripping of the fabric.
4. How to Remove Stains from Organza Sarees?
Just returned from a party and noticed an irritating stain on your Organza saree? 
Start by treating the stained area with a mild stain solution. Apply the solution to the stained area, let it get soaked for a few minutes, then wash the stained area with cold water.
These are a few tips that will help you easily take care of your precious Organza Sarees at home. However, if the Saree Care instructions insist on Dry cleaning,  you should go for it.
Now checkout
Swtantra's
extensive collection of Organza sarees for your wardrobe, including the Rose Breeze Printed Organza Saree, Rose Gold Saree with Pendants, Dusky Rouge Organza with Hand Embroidery, Lavish Lavender Organza with hand embroidery and many more!
Collection 2019
Sale 70% Off
Third slide