Charming Sarees for every Mom - A Mother's Day Gifting Guide by Swtantra
Posted by HENNA MALHOTRA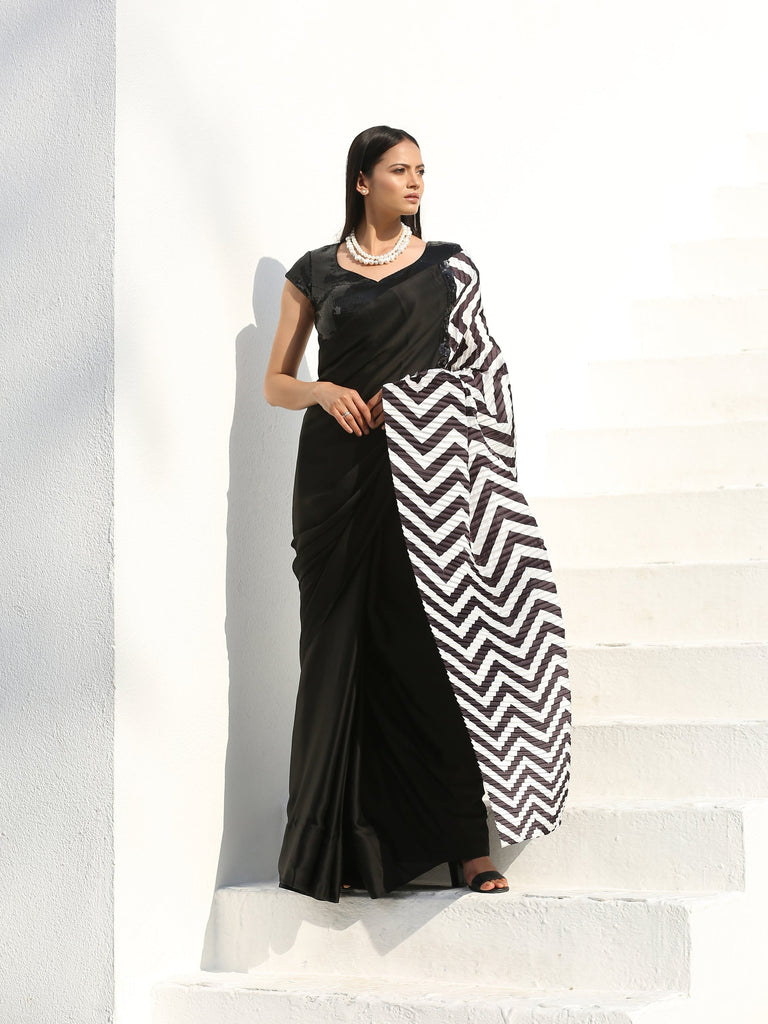 Every Mom is special and they deserve to be reminded of this every day. Mothers do so much for everyone around them selflessly - we feel their love in all the little things of everyday life. It goes unsaid that we should never stop showering our love and appreciation to the most Special Woman in our life.
And nothing says love like gifting something thoughtfully curated to your Mom. It not only expresses your affection, but personalization to her taste will let her know that you are always thinking of her too. With Mother's Day just around the corner, we at Swtantra have created a Gifting Guide that suits every different type of Mom based on her personal style.
Pink is undoubtedly the color of affection and love. If your Mom loves Pink as much as we do then why not gift her a mesmerizing pink saree from our collection. These gorgeous sarees will surely make your Mom look and feel Pinktastic! 
This French Rose textured Organza saree is lightweight and features silver shimmer all over. It has a modern Silver sequin lace on the front and the pallu. 
This Paradise satin saree features shades of delicate Peach and vibrant Sunset Pink in an Ombré with a white tunnel sequin Handmade flat lace on the pallu that gives it that extra bold look!
This Georgette Pink Color saree with Gold piped Sequins on the edges looks spectacular. The saree is lightweight and easy to carry.
This Beautiful baby Pink Satin Saree is so glossy and smooth. It has a very luxurious feel and appearance and drapes really well. Saree has Hand made lace on the pallu that adds to its innocent charm
Gifting Flowers to your Mom on Mother's Day is a staple ritual. Why not combine the freshness of flowers with the allure of sarees? Your Mom will undoubtedly look Gorgeous in our collection of Fresh Floral print sarees!
This Organza saree with Allover Rose Print looks so ethereal! Organza is a beautiful transparent fabric, firm and very durable. It perfectly retains its shape and practically does not wrinkle. 
This Saree is half blush Satin and Half floral organza. The Satin makes it easier to drape while the Organza Pallu falls gracefully. The Pallu has a beautiful beaded handmade lace for that added appeal. 
This beautiful White Organza saree is adorned with the a pretty Hand Painted floral design. If you want to gift your Mom something handcrafted then let it be this gorgeous saree with gold border. 
This Light grey Organza saree with a soft silvery shimmer is a charmer in every way! The pallu has intricate white floral style embroidery along the length that adds to the look without taking the focus away from the beautiful fabric itself. 
For the Mom who is always Classy
Nothing says classy like a timeless Net saree. Let your Mom show off her elegant style with our enchanting Net saree collection. Delicately adorned with embroidered motifs and beautiful designs that exude old-world charm and glamor. 
This Maroon net saree with embroidery scalloping and shiny dots will give a very classy and elegant look to your Mom. It has a beautiful drape with embroidery all over it. 
Our Angelic White net Saree Features beautiful embroidery scalloping with shiny dots scattered all over. The net embroidery work combined with the purity of the color white makes this Saree fit for Royalty!
Our Jade net saree with embroidery scalloping and shiny dots will give an alluring look. It has a beautiful drape that looks and feels very delicate yet appealing.
For that everlasting charm opt for our Black net saree with embroidery scalloping and shiny dots. Black is a color that never fades out of style and this exquisitely designed net saree will make your Mom feel so elegant and chic. 
For the Pastel perfect Mom
Hues of fresh pastels are always welcoming, especially in Spring and Summer. For those Moms who want to embrace these simple colors without taking away the fashion quotient- we have some delightfully refreshing Pastel sarees in our collection.
Our Lilac Sparkle Saree features dainty gold sequins embedded in the fabric and a white and gold striped texture. The lightweight soft Organza fabric is sheer, soft and drapes well. The beaded hanging lace on the pallu gives it a trendy touch. 
The Blue Sparkle saree in Organza Chiffon is sheer, light and drapes like a dream. It has gold sequins showered all over the fabric and a white and gold striped texture. A white sequined lace adorns the pallu stylishly. 
In a unique light Metallic Silver shade, this textured Organza saree has a magical silver sheen all over. A silver sequin lace on the front and pallu adds to its elegance. 
This pleasing and colorful tie & dye saree is so fabulous! The colors blend beautifully together in a playful melody. The saree pallu has a dull bronze lace that adds a touch of elegance. 
For the Elegantly stylish Mom
Elegance is the only true beauty that never fades. Your Mom will surely stand out from the crowd when draped in luxurious satin sarees from Swtantra. These bold and solid colors will make your Mom feel so sophisticated and confident. 
In enchanting dual hues of Red and Grey combined with the lux richness of the Paradise satin fabric - this saree is an eye-catcher in every right!  It features handmade Black Sequin Pendants at the corners of the pallu that stand out against the saree.  
Our Faith Mustard Saree In a statement bold Mustard - A fabric so comfortable and soft will leave you looking and feeling your best! The pallu features beautiful handmade Bronze pendants on either end to up the style quotient. 
A modern saree - half-Black Satin and half Metallic Gold Satin Organza. The half satin makes the draping of the saree easier and more handy. The pallu falls gracefully over your arm. The saree pallu has Black Sequin hanging lace that adds to the look gracefully.
This paradise satin saree comes in Dual Hues of Deep Maroon and Ebony Black. The saree has a rich glossy black lace at the end (pallu) that adds to the look. The lace adds to the dual hues for an overall bold and exotic look.
For the Traditionally Modest Mom
For the mom rooted in tradition and culture, we have a set of ethnic sarees that are timelessly beautiful and rich in heritage. Find subtlety at its finest in our cotton chanderi and linen sarees -  that will make your Mom look so graceful.
This saree features A deep grass green color till the pleats which is mixed with pink hue, gold striped pallu and gold embroidered motifs on pink, in the front on the Chanderi portion. It's a classic combination of Green, Pink and Gold - one your Mom can't ever go wrong with!
A Stunning & Unique Saree with Chanderi in the front and handloom cotton silk fabric for pleats. It also has a Pallu with Shiny weave and fringes which makes the whole saree really exquisite. 
This Red Linen saree has a Silver border and Pallu with hand made tassels at the edge - Linen sarees are fit for every season and occasion. For the Mom who wants to keep it simple, this saree will only magnify her natural beauty.
One of the most elegant fabrics in sarees is linen. This Linen saree has a Silver border and Pallu with hand made Fringes at the end. The beauty of the linen saree lies in its simplicity and modesty. 
For the Color Captivated Mom
We have some playful sarees in our collection for the Mom who adores rich vibrant hues and wants to live her life in multi-colored moods. Let your mom be free to live her colorful dreams!
A modern saree with an Ombre' effect in 3 colors creating a Sunrise Sky effect - half Chiffon Ombre' plain and half Chiffon Ombre' with Accordion Pleats. The pallu falls gracefully over the arm. A perfect saree for your Color loving Mom. 
This deep purple saree is very modern - Half saree is in Accordion Pleats in Satin and half is plain satin. The pallu falls gracefully over the  arm. A color so stunning is made to turn heads.
A modern saree in Henna green color with a waves effect on one side of the Pallu with Accordion Pleats. The pallu falls gracefully over the arm and has hand made dull gold pendants. A very unique colored saree that your Mom will adore!
A very classic Satin saree in Burgundy Maroon - It has a lux color and drape. Saree has Hand made Bronze lace on Pallu giving it an overall elegant and relaxed color look. 
For The Contemporary Chic Mom
For the Mom who loves to keep it modern and stylish - Swtantra has designs in suave chevron prints and rich shimmer silhouettes. Let your Mom experiment with her style statement with our unique hues and prints.
An extraordinary saree - which has Luxurious Black Satin as a saree (up to the shoulder ) and Accordion Pleats in Chevron prints in Satin as pallu which makes it unique and elegant at the same time. The pallu falls gracefully over your arm. There is Black Sequined lace on the Shoulder to give a bold look to this unique Saree!
With a rich Dark Chocolate tone, this elegant Chiffon saree with overall shimmer is soft and rich to the touch. It features Bronze Shimmer Lace on the front and pallu of the saree for an exquisite touch. 
Our Lush Green Saree in rich Chiffon with subtle all-over Shimmer is a Beauty in every right. This saree looks and feels luxurious as the fabric moves with your body. It features Black Sequin pendants on the ends of the pallu for an added flair.
The saree features a Luxurious shade of Bronze Gold, with a gentle golden sheen across the entire surface. The saree pallu has Silver and Bronze Mirror handmade lace that adds to the look lending it a sheer elegance to make it perfect wear for an event where you wish to make a statement with class!
Make your Mom feel extra loved and appreciated this Mother's Day. We have something unique for every special kind of Mom in our collection. Show your appreciation by Gifting your Mom a beautiful Saree made from six yards of pure Love, only from Swtantra!
Collection 2019
Sale 70% Off
Third slide