5 Gorgeous Indian Sarees Every Woman Should Own
Posted by TANUJA SINHA ROY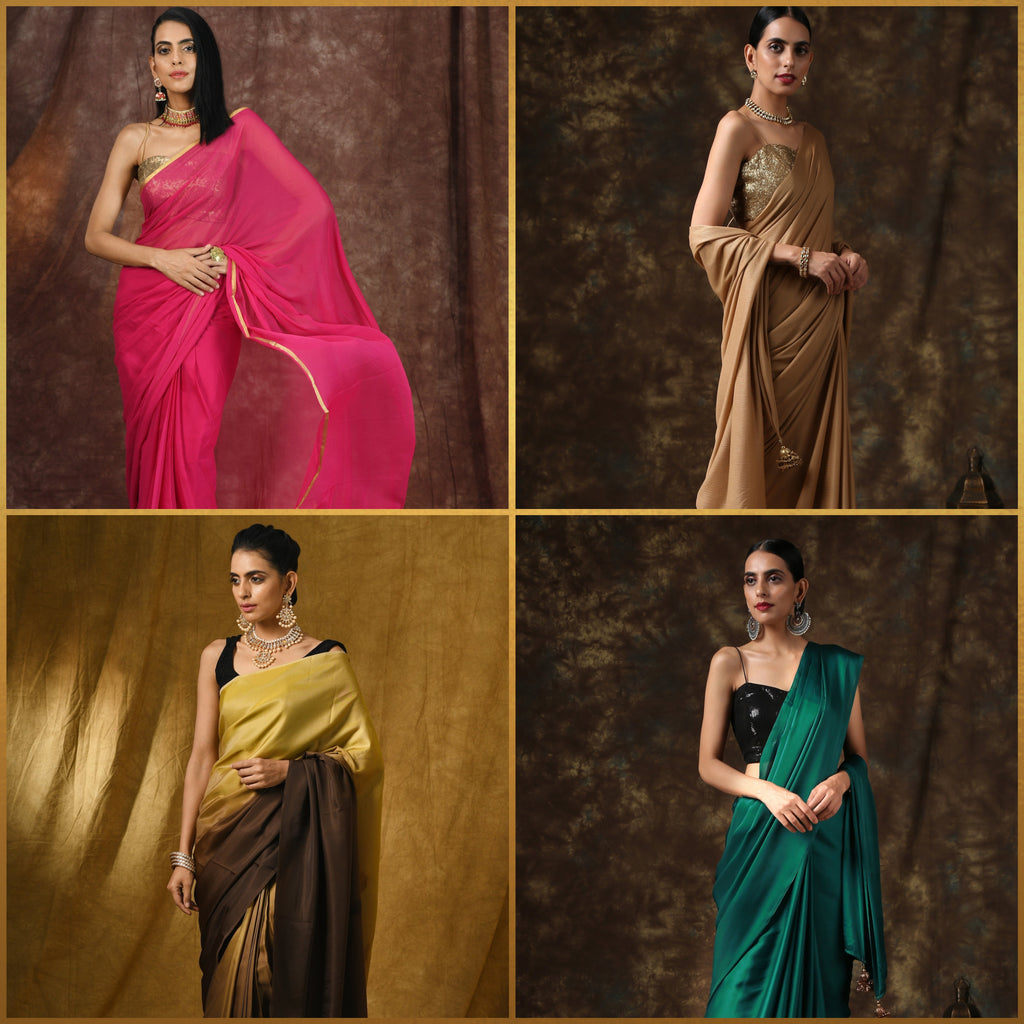 Saree from its inception has been an absolute masterpiece & comes in alluring fabrics & a gamut of colors. It isn't wrong to say that the saree is quintessentially Indian& women from all walks of life wear a saree in one or the other occasion.
The origin of saree dates back to more than 5000 years back when it was draped as a three-piece ensemble in India. However, it went through various transformations due to cultures & traditions. Early Greek women wore chitons whose draping style was similar to saree. Egyptian women preferred luxurious fabrics with elaborate draping that was similar to traditional Indian saree draping. So, orthodox beliefs coupled with clothing & culture are some of the primary reasons for the evolution of saree that we see today.
In ancient days, saree was seen as a utilitarian garment. However, the advent of Mughal era brought saree to the fore as traditional attire. Stitching was given impetus by Greeks. However, it was the British who transformed the way sarees were worn. Traditional Saree draping styles were replaced with modern ones & petticoats, stitched blouses & ubiquitous garment construction came into the limelight. This revolutionized the Saree & empowered women to wear them for a multitude of occasions.
Nowadays, saree fashion is undergoing a constant & innovative change. The introduction of new fabrics &a blend of eye-catchy colors is enabling women to prefer them instead of western clothes. Let us look at 5 exquisite sarees that every woman should have.
5 Gorgeous Indian Sarees that should be in every Woman's Wardrobe
Here are 5 amazing Indian Sarees that every woman should own:
Silk saree has its origins in Hindu Mythology. The Silk saree weaving dates back 400 years ago but it is still considered as one of the best traditional Indian sarees. The Silk Sarees undergo meticulous weaving & as the name suggests it is made up of Silk fabric. These Sarees typically have images of figures, scriptures or other amazing designs that can make a person stand out from the crowd.
These traditional sarees are mostly worn in:
Weddings
Traditional ceremonies
Family Gatherings
The Chiffon Fabric was mostly used by the French people. The word chiffon comes from the French word "Chiffe" which means cloth or rag. This fabric was available in Europe from the 17th century. Chiffon fabric was symbolically used to showcase social standing & wealth. However, this fabric is being used by leading fashion designers & saree makers to create Gorgeous Indian Sarees. These sarees are characterized by shimmery & transparent appearance, light-weightyet strong fabric & easy drape.
These sarees are commonly used for:
Evening wear sarees
Party Wear Sarees
Social Gatherings
The word satin usually refers to the method of fabric weaving as opposed to the saree materials. Satin sarees are characterized by a glossy surface. It has a luxurious feel & appearance and this is the reason why women wear it for various occasions. Some of the varieties of satin saree are silk satin, satin crepe, printed satin, satin georgette, beige satin & more
The Satin Sarees are usually worn as:
Daily wear sarees
Office-wear Sarees
Party Wear Sarees
Ombreis actually a French word that literally means shaded. So, Ombre isn't a fabric but a blend of color hues & shades. These color blends are typically characterized by a dark & light color. Ombre sarees are trending nowadays & are preferred by women who want to look elegant & classy. Some of the Ombre sarees include Green & Blue, Gold & Brown, Black & Grey, Light Green & Navy Satin Sarees and many more.
The Ombre Sarees are used for:
Special Occasions
Formal Wear
Family Gatherings
It is one of the well-known traditional Indian sarees and can be worn in any season. It has its origins in both North & South India. Cotton sarees are preferred by Indian women as they are affordable, elegant & easy to wear.
Cotton sarees are used in:
Various festivities such as Holi, Dusshera, Diwali & others
Daily-wear sarees
Work-place sarees
These are 5 Gorgeous Indian Sarees that every woman should have in their wardrobe. Swtantra brings an amazing collection of Chiffon, Satin, Ombre& Shine Sarees for Women to jazz up their look & empower them to celebratetheir Indianness.
Collection 2019
Sale 70% Off
Third slide